Wholesale Custom Two Holes Foldable Spout Kitchen Faucet 304 Stainless Steel Brush Finishing
PRODUCT INFORMATION

Name

Foldable 304 stainless steel sink kitchen faucet

Brand name

HOMESHOW

Model:

C03 1370

Material:

SUS304

Cartridge:

500,000 times ceramic cartridge

Installation:

Deck mounted

Water Pressure

Testing:

1-1.6MPA

Acidic Salty Spray Test:

24 hours

Guarantee time:

5 years.
1.ENVIRONMENTAL PROTECTION
The entire production process of SUS304 stainless steel faucets is in accordance with the rules of sustainable development of the society. It does not involve electroplating, heavy metal pollution, etc., and does not cause any pollution or damage to the employees and the environment. On the other hand, SUS304 stainless steel material can be recycled 100%. At the same time, new materials and new processes are adopted to keep the faucet water from contacting any metal substances. lt also removes the pollution of water by lead, mercury, and other metals, ensuring that the products are environmentally safe and maintain the purity and sanitationof the raw water.
2. HEALTH

Stainless steel is an inmatonolaly recgnined heathy material that can be implanted into the human body. To share a simple example, the pots and pans used by our familles are mostly made of 304 stainless steel. In addition, many surgical instruments used by the hospital for patients are also made of 304 stainless steel. Because it is lead-free, acid-resistant,alkali-resistant, corrosion-resistant, does not release harmful substances, does not cause secondary pollution to drinking water sources, does not cause hidden dangers to people's health and safety, safer, healthier and more reliable.
3. BEAUTIFUL
SUS304 stainless steel faucet has a silver-white luster and will not fade, giving you a practical and beautiful feeling. Canbe used in any bathroom. 304 stainless steel only requires surface grinding and polishing, There will be no spots, and the rust with fall off. It has a strong antibacterial ability, the surface is easy to clean, and the growth of bacteria is reduced.
4.DURABLE

SUS304 stainless steel contains more than 1 8% chromium and 8% nickel, So it has high corrosion and rust resistance.The combination of chrome and nickel creates an antioxidant on the surface of the material. It has excellent features such asanti-rust, anti-corrosion, anti-oxidation, good wear resistance and long service life.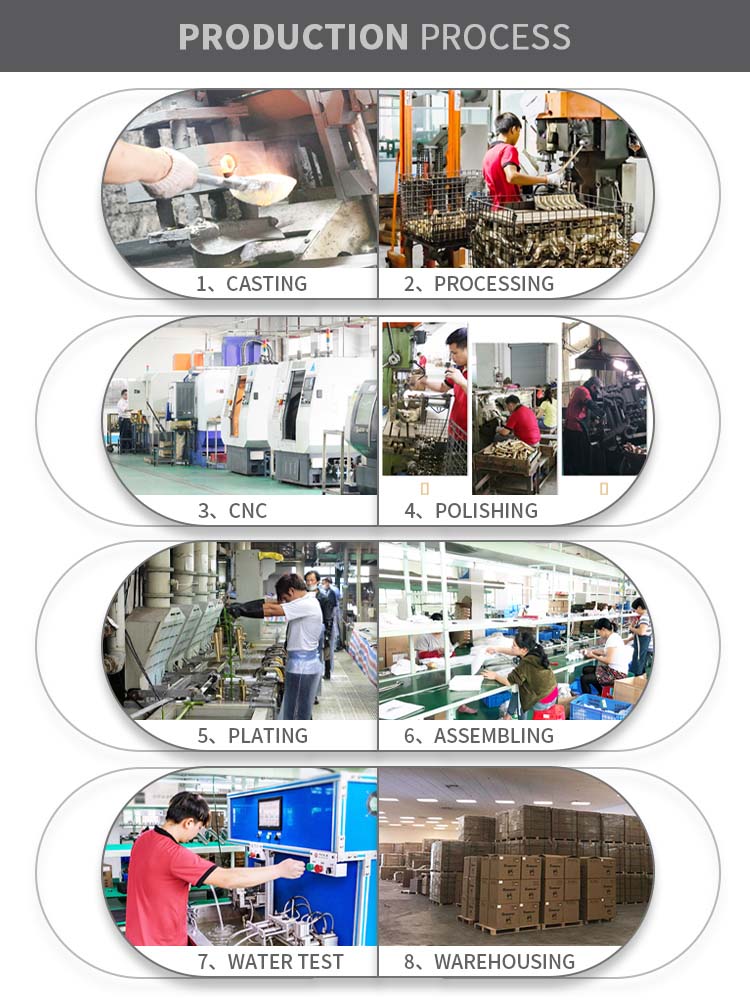 HOMESHOW is a manufacturing company start from 2009 year, located in Foshan City, Guangdong Province. experienced in basin faucets, Kitchen faucets, shower mixer and bathroom accessories.

We have our own design and development team, single handle brass faucets factory scale about 30000sqm. Our main business is OEM and ODM for different brand in the world for mid-high quality.

HOMESHOW Collections is the choice resource for homeowners, builders, architects and designers for their residential and commercial projects, and is a trusted company in the bath and kitchen industry.

"Pragmatic, sincere, pioneering, innovative, and efficient" is the principle. We adhere to the "high quality, best services"business philosophy. We owned advanced production equipment. A number of professional and management personnel are all included. Obtained the TUV ISO9001:2008, CE, the Spanish AENOR certificate.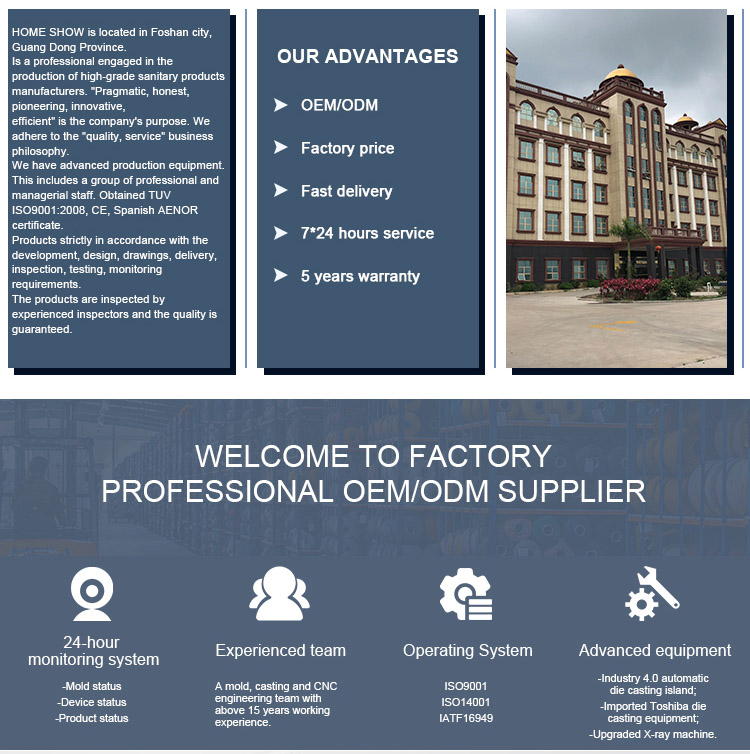 HOMESHOW Intelligent productioneuquipment
CNC automatic machinesand polishing robots

Production system and efficient processmanagement are the most powerful quality assurance

Advanced bathroom and kitchen hardware platfrom leading R & D capabilities
Reseach and development center

1.We provide 5 years warranty.

2.We promise to replace cartridge without any charge for single handle brass faucets within 5 years.

3.We have different products suits for different market, of good quality and competitive price .Some of our products have gain IF, REDDOT, GMARK these world prize.

4.We have a strong marketing team can service for your VI system, showroom and catalogue design.

5.We have a strong products department can design the new products together with you.

6.We have over 10 years hardware sales experience and can give you professional products solution based on your products structure as for your database.

7.We are an expert in doing concealed shower system, can meet your different demand of this products and can give you different solution for your projects.

8.HOMESHOW do not only sell single handle brass faucet products, we also sale solutions.

HOMESHOW guarantees all its brushed plated ranges for a period of 5 years from the date ofpurchase again defect of work or materials work or materials, except for the electronic partsand the intenal components such as ceramic cartridges, headworks and thermostatic
cartridgeswhich are guaranteed for a period of 2 years .Qquality standard apply with EN817regulation,
Qualty standard apply with EN817 regulation;
Plation thickness passes NSS 200H test under lab conditions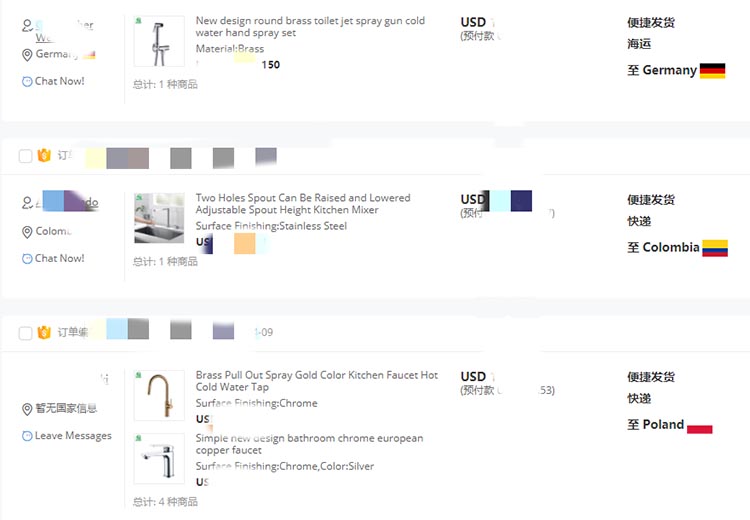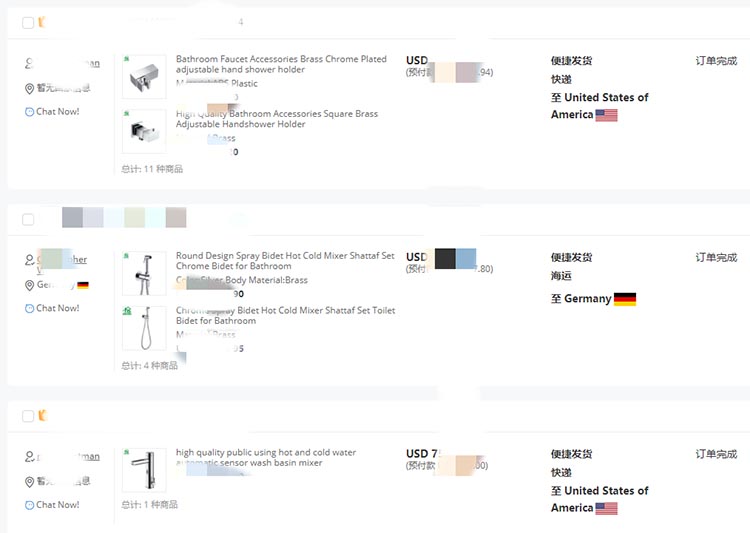 Packaging Detalis:
1.Intemal packing: soft bag, cloth bag will inner box.
2.External packing: export carton and MDF materials pallet.
3.The packing can be changed as per customer's requirement.
Delivery Detall:
Estimated single handle brass faucet sampies delivery time is 7-10days;
20ft container is 30-40days;
40ft container is 45-50 days.
Shipping information:
Normally, we will deliver the single handle brass faucet sample products via international express, such
as DHL, FedEx, UPS, For bulk order goods, it will be delivered to customer by ocean.
Q: WHAT ARE YOUR ADVANTAGES?
A: 1. Our homeshow specialized on hardware products, we have full experience of projects, including hotel, villa, apartment, or private house decoration, also we have different solution for your project, and we can give your kind suggestions based on your budget and design style.
2.We also do OEM to some big brands, we have different products of high-end, mid and low suit for different market. And based on your products structure, we can give you different products solutions, as for your products database.
3. We have a strict QC system from production to delivery.
4. Good service to handle with different complaints.
5.Samples can be provided as for your requirements.
Q: WHAT ARE YOUR MAIN PRODUCTS?
A:We are specialized in concealed shower system, including different style of concealed accessories, shower bar, shower set, and different faucet series used in bathroom.
Q: IS YOUR FACTORY ACCEPT DESIGN OUR OWN PACKAGE AND HELP US IN MARKET PLANNING?
A:HOMESHOW is willing to help our customers with designing their own packages and logo, we have a strong marketing team and products design team to help you from VI, showroom decoration, catalogue to new products design.
Q: CAN I GET FREE SAMPLE?
A: Ordinarily, for some certain models, we can provide the samples for free, but some will charge the single handle brass faucet sample cost, however, you should pay for the transportation freight.
Please tell us your express accountant or please send us the transportation freight of the single handle brass faucet samples then we can arrange for the delivery soon.